Care to spice up your web page with some really cool looking photo albums? Give jAlbum a go! Not only is this application extremely easy to use, but it is perhaps the best of its kind currently on the web. What's better: it's completely free for non-commercial use.
Downloading the actual program might take a couple of minutes, but that's because it's packed with a bunch of neat features which make publishing professional-looking albums to the web an absolute cinch.
The ultimate goal of jAlbum is to gather up your favourite pictures into albums, touch them up and then publish them to the web. If you don't have your own web site, don't worry; jAlbum can provide you with one on your own subdomain at nickname.jalbum.net.
Firstly, you start off with projects and adding images to those projects. A quick way of adding multiple images is clicking the add button and from within the dialog box, hold down your CTRL key while selecting the images you'd like to include in your album.
Select a skin and style and jAlbum will process your images and place them into an album ready to upload to the web. If you have a jAlbum account, you can do that within the program after signing in with your jAlbum account.
The 'Lumen' skin with the 'Light' style
The program comes with multiple different styles, we liked "Lumen" the best. Several others are also available if you'd like to try them out.
Before creating your customized web albums, you can also edit your photographs with quick access via the right click of your mouse while hovering over an image. Rotating is probably the most commonly used tools, but you can also remove, paste and cut images from albums.
If you're not satisfied with how your picture turned out and you'd like to make some quick adjustments, simply click the pencil icon at the top-right corner of the window and you have access to great image editing tools like red eye removal, sharpening/blurring, pixelating, colour levels and more.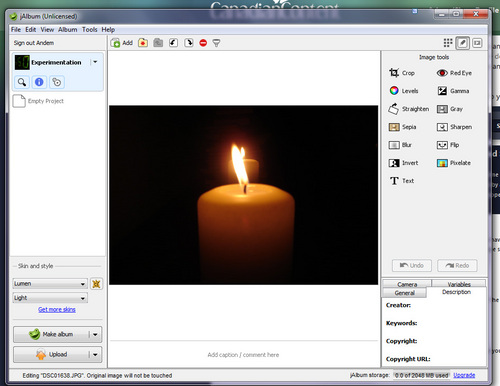 Touching up images with jAlbum
Overall, jAlbum has got to be one of the best Windows-based combined image sharing/management/editing/organization applications we've tested and with their hosting service, it's perfect for those wanting to share their memories with friends and family online -- without the questionable privacy of many social networking sites (which don't support an 1/8th of what jAlbum can do).
jAlbum can add text to an image, apply special effects to a picture, create slideshows and optimize graphics.
---
jAlbum is licensed as Freeware for Windows (32-bit and 64-bit) operating system / platform from slideshow software without restrictions. jAlbum 16.2 is available to all software users as a free download (Freeware).
---
This album builder software is filed under:
jAlbum Download
Freeware Slideshow Software
Software Reviews
Portable Software
Free Software Download
Compatibility with this album builder software may vary, but will generally run fine under Microsoft Windows 10, 8, 8.1, 7, Vista and XP on either a 32-bit or 64-bit setup. A separate x64 version may be available from JAlbum AB.